Free Push Notifications For 6 Months
Over the past few months, almost every affiliate marketing business has felt the impact of the COVID-19 outbreak. Everyone has been affected a little differently, but many have needed to suspend their affiliate programs which has resulted in a decline in ad revenue.
One of the ways that affiliates can help sustain (or even improve!) their profitability is by leveraging the power of push technology. We spoke with Josh Briggs, VP of Sales & Client Success at Pushnami about how they're helping support affiliates fight through these difficult times.
What can affiliates expect from leveraging Pushnami during this crisis?
Josh Briggs, Pushnami: We've been helping affiliates monetize their traffic via our web push technology ever since we opened our doors in 2017. We know the affiliate industry well, and we understand how difficult things can be when ad revenue trends downward.
Our push technology is helping affiliates get the maximum amount of value possible from their strategies via retention and reengagement efforts, and our machine learning features are ensuring that everything stays 100% optimized so they don't have to spend their time manually trying to find the right time to push or the best message to send to their audiences. Our clients typically see results like a 30% boost in conversions and unlike generic email campaigns, push allows you to personalize your messaging down to the individual subscriber.
Many affiliates don't have a lot of extra time to spend on learning a whole new technology these days. How long does Pushnami take to get up and running?
Briggs: Our installation and onboarding process takes only about an hour, and we provide you with videos and documentation to set you up for success. Additionally, we also offer a managed plan where we do all the heavy lifting for you. Right now, we're offering all affiliate sign-ups a free managed plan that will provide you with all the benefits of our push platform, but with virtually no lift required on your end.
Our managed plan is a great option for any affiliate looking to get the absolute maximum value from their offers and drive the most conversions from their websites, but may not have the time or the headcount to manage their push strategy on a daily basis. If you have questions about this, you're welcome to contact us anytime.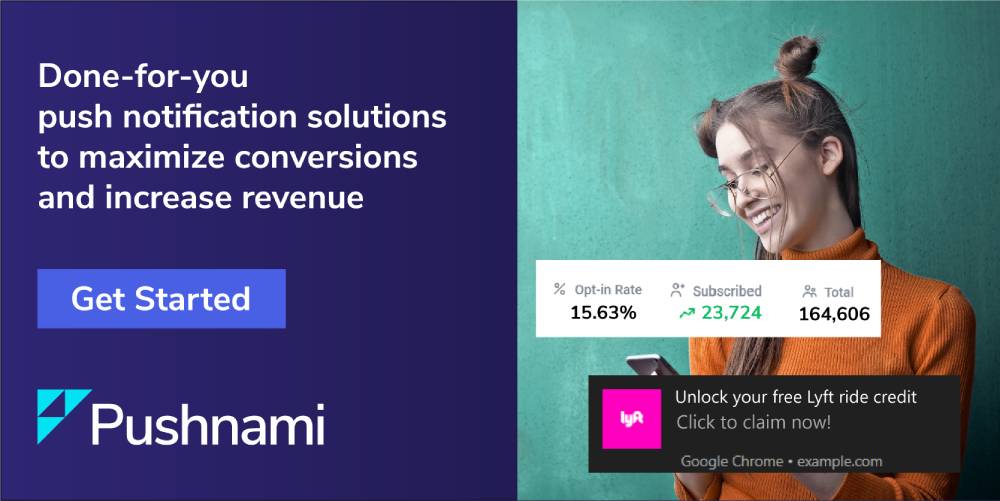 It's been interesting to see how some offers have completely disappeared, while some areas have actually accelerated through this crisis. Which verticals do you think could benefit from push right now?
Briggs: Our clients are definitely seeing an overall improvement with offers in the health, entertainment, online classes, and fitness verticals recently. Some affiliates are able to start promoting within verticals like these and Pushnami can definitely help them capitalize on increased traffic.
For others, this may not be an option and they're concerned about maintaining profitability. We know just how creative and resilient affiliate marketers can be, and to help provide support we're offering new users of our platform with 6 months of free push notifications. Our goal is to help our clients fight through these strange times and prevent them from falling behind their competitors. We want you to experience the value of Pushnami without being held back by campaign limits or subscriber caps. You get our enterprise-level platform for free for 6 months. No credit card required.
From everyone at Pushnami and Wewe Media, we hope everyone is staying healthy and maintaining a positive outlook. Together, we can help end this pandemic and we look forward to continuing to support the affiliate industry.